Hip Pain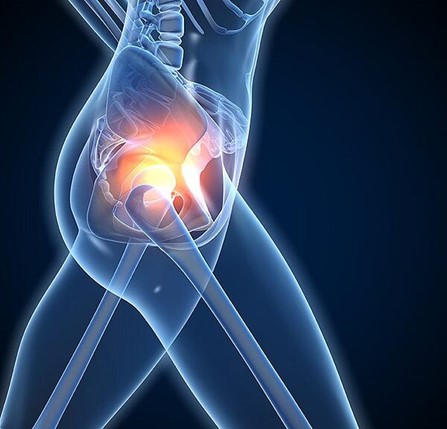 Understanding Hip Pain And When To Seek Medical Treatment?
One in four people may develop symptomatic hip osteoarthritis in his or her lifetime, which can result in poor quality of life, disability, or functional restrictions. (source)

If you experience the following, we urge you to seek medical attention as soon as possible:

Symptoms/Pain Points
• Pain in your hip joints
• Limping when walking
• Stiffness or Loss of flexibility in the hip
• Swelling or tenderness in the hip
• Difficulty sleeping on your side
• Difficulty bending over to wear socks, shoes, or clipping toenails

Symptoms may vary from person to person.

Timely treatment can help to alleviate hip pain, allowing you to resume your daily activities quickly.

Some patients with severe hip arthritis don't actually experience hip pain as their hip joint is fused (ankylosed). This means that they do not have any movement in their hips at all and they have to compensate by moving their body in an abnormal position just to walk. This compensatory gait causes a lot of stress to the adjacent joints in the lower back and knees. Do seek help if you find yourself limping or walking with an unusual gait. Sometimes it may be your friends or loved ones who notice the unusual way that you walk.
How Can Orion & Dr. Mizan Help You With Various Hip Problems And Injuries?
Your quality of life can be severely impaired, basic activities of daily living and work affected, and your mental and physical health compromised with constant hip pain.

If prior treatment has not relieved your hip pain, you are strongly advised to seek a second opinion from an experienced and fellowship-trained orthopaedic specialist.

Meet Dr. Mizan Marican, Orion's Medical Director & Consultant Orthopaedic Surgeon, and restore your active living with the proper treatment for your hip pain problems.

Hip dysplasia

Hip femoral acetabular impingement (FAI)

In-toeing or out-toeing gait

Avascular necrosis

Hip Labral Injuries

Hip Arthritis
Treatment Options For Various Hip Pain & Injuries At Orion
- Hip Hyaluronic Acid Injections (Insurance & Medisave Claimable)
- Other non-invasive solutions (most solutions are Insurance & Medisave Claimable)
- Hip Preservation Surgery (
contact us
to check if it is Insurance & Medisave Claimable)
- Hip Replacement Surgery - for the chronic hip pain problems (
contact us
to check if it is Insurance & Medisave Claimable)
Hip Preservation Surgery
Hip preservation surgery includes several techniques that Dr. Mizan practices to help restore the integrity of your hip and delay the need for a formal hip replacement.

There are now arthroscopic (keyhole) techniques to preserve the hip and treat labral tears. Labral tears are repaired and stitched back using instruments that are inserted through small 1-2cm skin incisions around the hip (arthroscopic labral repair).

Femoral acetabular impingement (FAI) injuries are also managed by this same arthroscopic technique where abnormal fragments of bone around the acetabulum and femoral neck are removed using burr and shaver instruments (arthroscopic pincer and CAM resection). Keyhole techniques help reduce the risk of infection and collateral damage to other structures in the hip.

Avascular necrosis (AVN) is associated with increased pressure in the femoral head. This prevents blood flow to it and causes it to eventually collapse. In its early stages, core decompression is performed to encourage blood flow to return to the bone and help with its healing.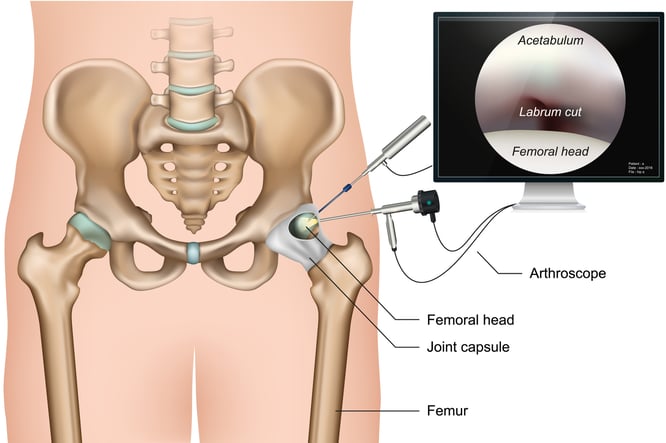 Hip Replacement Surgery - For Chronic Hip Pain Problems
Advanced hip arthritis may not be amenable to hip preservation techniques such as injections, medication and arthroscopic repairs. X-rays and MRI scans may reveal widespread and severe cartilage degeneration which would be better managed with a hip replacement procedure.
Dr. Mizan will assess your past medical history and hip condition before recommending a personalized treatment plan for you. For severe hip arthritis, Dr. Mizan may recommend a
total hip replacement operation
(insurance & Medisave claimable) through the direct anterior approach (DAA).
The benefits of performing the hip replacement through the direct anterior approach are as follows:
Muscles, nerves, and other soft tissue are left uncut
Patients assume a supine position (lie on their backs) during surgery: this allows the use of x-rays during surgery and more accurate assessment of your leg lengths
X-rays ensure Implant size and positioning are optimized
Significantly reduced risks of dislocation
Patients are allowed to walk on the same day as their surgery
Patients are allowed to return home the day after surgery
No hip restrictions after surgery. You can kneel, squat, and cross your legs after your total hip replacement.
Your Journey To Long-Term Hip Pain Relief At Orion Orthopaedic Surgery
If you or your loved one is experiencing hip pain, seek medical advice from experienced orthopaedic surgeon Dr Mizan and his team. We are here to help you every step of the way.
Step 1

Schedule an appointment

Step 2

Consultation & assessment by Dr Mizan

Step 3

Undergo recommended treatment plan

Step 4

Review and follow-ups with Dr Mizan

Step 5

Follow comprehensive and holistic aftercare plan
Dr. Mizan Marican Specialises in Lower Limb Surgery (Hip & Knee Joints)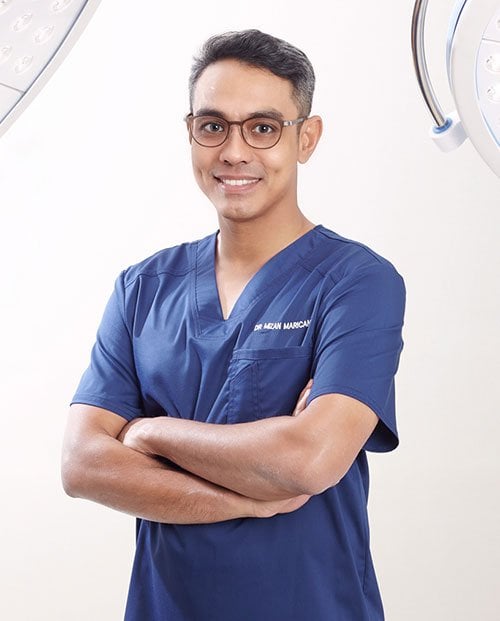 Dr. Mizan Marican
Consultant Orthopaedic Surgeon & Medical Director
MBBS, MRCS, MMed, FRCS
Dr Mizan Marican is a fellowship-trained orthopaedic surgeon with a special interest in sports injuries as well as hip and knee surgeries. He is trained in the direct anterior approach (DAA) hip replacement surgery. He is proficient in a wide spectrum of hip preservation techniques and surgeries. Over the years, Dr. Mizan has amassed a wealth of surgical experience in a broad spectrum of conditions aimed at restoring a better quality of life and maintaining an active lifestyle for all his patients.
Our Location
3 Mount Elizabeth, #08-05 Mount Elizabeth Medical Centre, Singapore 228510
+65 6733 4565
+65 9766 4565
clinic@orionortho.sg
Mon-Fri 8:30am - 5:30pm
Sat 8:30am - 12:30pm
Sun/Ph Closed
Our Location
3 Mount Elizabeth, #08-05 Mount Elizabeth Medical Centre, Singapore 228510
+65 6733 4565
+65 9766 4565
clinic@orionortho.sg
Mon-Fri 8:30am - 5:30pm
Sat 8:30am - 12:30pm
Sun/Ph Closed
FAQs About Hip-related Pains And Injuries
How do I know if my hip pain is serious?
Pain around the hip is common; this may be due to a muscle sprain or pull. If your hip pain becomes more severe despite adequate rest and analgesia, if you start to limp or feel like falling, you are strongly advised to seek professional medical attention.
Do I need to have a recent MRI, CT, or X-Ray ready?
Dr Mizan will require at least an x-ray scan to help diagnose your hip condition. This is in addition to the clinical examination he will perform to assess your hip range of motion and pain.
What are some ways to relieve my hip pain while waiting for an appointment?
If there are certain actions that aggravate your hip pain, it is best to stop them to prevent worsening of your hip condition. You may also take simple medication for pain if you have some at home as well as apply ice to the affected area.
When would I need surgery for my hip pain?
Surgery is often the last resort when it comes to hip pain. Dr Mizan will ensure non-surgical and non-invasive techniques are tried first before going for the surgical option. If non surgical options like physiotherapy, analgesia or changes of physical activities do not help your hip pain or limp, Dr Mizan will discuss the pros and cons of having a hip operation.
I already have a diagnosis and recommended surgery/treatment. Can Dr Mizan give a second opinion?
Dr Mizan often sees patients who were previously seen by other doctors and surgeons and is always happy to provide a second opinion about your hip condition. This is based on his own assessment of your injury, including examining your hip and analysing your x-rays or MRI scans. He will provide his own professional opinion first before hearing what diagnosis and treatment options had been given to you before. This is to allow him to make an unbiased assessment of your injury.
How do I know if I'm covered by insurance for hip replacement procedures?
Content from: https://www.orionortho.sg/insurance-coverage
After assessing your injury and analysing your xrays or MRI scans, Dr Mizan will make a diagnosis of your condition and recommend a treatment option. These options will be written down and financial counselling will be provided. You may then speak to your insurance agent either on the phone, via email or through an insurance app to determine if your personal or corporate insurance covers you for the injury and recommended treatment option.
I have more questions, how can I speak to a doctor?
Please either use the appointment form above, call us at +65 6733 4565 (during office hours), or drop us a text or WhatsApp at +65 9766 4565. We will get back to you within 1 business day for a consultation with Dr Mizan and the necessary screening tests to evaluate your condition.