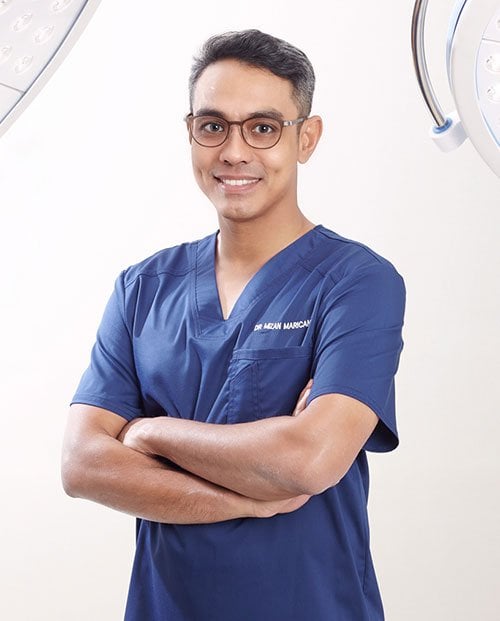 Dr Mizan Marican
Consultant Orthopaedic Surgeon & Medical Director
MBBS, MRCS, MMed, FRCS
Dr Mizan Marican is a highly trained orthopaedic surgeon, specializing in lower limb surgery, namely the hip and knee joints. With over 10 years of orthopaedic experience, he has amassed extensive experience in sports and trauma injuries, as well as degenerative conditions of the hip and knee. His practice is focused on joint preservation and sports injuries (ACL and meniscal surgeries, hip arthroscopy, osteotomies), and joint replacement surgeries of both the hip and knee. He frequently performs the partial or total knee replacement surgery for active patients and is skilled in the use of navigated and robot arm-assisted (MAKOplasty®) knee replacements.

Dr Mizan was awarded the MBBS (Bachelor in Medicine, Bachelor in Surgery) degree from King's College London in 2005. He worked as a junior doctor in London for two years before returning to Singapore to begin his postgraduate surgical training. Dr Mizan started his orthopaedic training in 2010, and on its completion in 2015, he was awarded the Fellowship of the Royal College of Surgeons (FRCS) of Edinburgh.

Focusing on orthopaedic trauma, sports, and arthroplasty, he spent 18 months as an orthopaedic consultant at the Singapore General Hospital (SGH) before embarking on a highly competitive and sought-after fellowship at the prestigious Melbourne Orthopaedic Group in 2017. Dr Mizan honed his skills in joint preservation and replacement surgeries of the hip and knee under the mentorship of some of the brightest minds and hands in orthopaedic surgery.
Specialized in Direct Anterior Approach (DAA) Hip Replacement
An orthopaedic surgeon of distinction, Dr Mizan is one of the two surgeons in Singapore trained to perform hip replacement surgery using the muscle-sparing direct anterior approach (DAA). This surgical technique is a proven minimally invasive procedure without cutting through any major muscles and allows for a shorter recovery and hospitalization time. Patients are not subjected to hip precautions after surgery and are at an extremely low risk of hip dislocations. As a regional expert in the DAA total hip surgery technique, Dr Mizan has held local and regional courses, conducted live surgeries for surgeons across Asia and continues to mentor budding DAA hip surgeons in Singapore. He also has a keen interest in teaching and has been a lecturer and teaching faculty for medical students, trainee orthopaedic surgeons and nurses over the years. Dr Mizan has conducted multiple cadaveric courses for orthopaedic surgeons to master their surgical skills as well as participated as a key speaker in regional orthopaedic conferences.

Connecting With Individuals
Dr Mizan embraces a patient-centered orthopaedic practice, delivering safe and effective care with passion and compassion. His goal is to enable patients to return to the activities they enjoy most by customizing non-surgical and surgical treatments for them. An active sportsman himself, Dr Mizan does his utmost to keep his patients active and improve their lives through healthy living. Outside of work, Dr Mizan is an avid golfer, cyclist, and tennis player. He spends his Saturday mornings on his road bike cycling across the island with friends. As a golfer, he also maintains a handicap of 18 and plays doubles tennis for a great workout.
MM Marican, MC Fook-Chong, I Singh. Incidence of Postoperative Wound Infection after Open Tendo Achilles Repair. Singapore Medical Journal. 2015; 56 (10): 549-554.
MM Marican, J Lei, HCA Tan. Evaluation of arthroscopic subacromial decompression using a 2-portal technique. Journal of Orthopaedics. 2012;9(4). www.jortho.org/2012/9/4/el
MM Marican, IR Singh. Delayed footdrop after Total Hip Arthroplasty: Spinal Stenosis the Cause? Malaysian Orthopaedic Journal 2011;Vol 5, No 2.
MM Marican, Bengt Kald, Dugal Heath. An Audit on Venous thromboembolism Prophylaxis in Day-Care and 23-Hour Patients Undergoing Surgery. Journal of One-Day Surgery 2007; 17: 5-10.
33rd Singapore Orthopaedic Association Annual Scientific Meeting 6 - 10 Oct 2010-Podium Presentation. Incidence of Postoperative Wound Infection after Open Tendo Achilles Repair. MM Marican, I Singh.
New Zealand Orthopaedic Association Foot & Ankle Meeting, 6 – 8 November 2009-Podium Presentation. A prospective comparison between calcaneoplasty, tendo achilles debridement and proximal reattachment versus tendo achilles debridement alone for the treatment of insertional achilles tendinosis. MM Marican, Chong KW
32nd Singapore Orthopaedic Association Annual Scientific Meeting 18 - 22 Nov 2009-Podium Presentation. A Prospective Cohort Study: Incidence of Deep Vein Thrombosis in Patients undergoing Spinal Surgery. MM Marican, Yue WM
32nd Orthopaedic Association Annual Scientific Meeting 18-22 Nov 2009-Podium Presentation. Charcot osteoarthropathy of the foot and ankle: a surgical treatment algorithm. MM Marican, Chong KW
British Association of Day Surgery Annual Scientific Meeting, Glasgow 15-16 June 2006-Podium Presentation. An Audit on Venous Thromboembolism Prophylaxis in Day-Care and 23- Hour Patients Undergoing Surgery. MM Marican, Bengt Kald, Dugal Heath