Pain Relieving Injections
—

Platelet-Rich Plasma (PRP)
What is Platelet Rich Plasma (PRP)?
PRP is an effective pain relieving injection that involves administering a concentration of the patient's own blood into injured areas to accelerate healing and alleviate pain. It is a form of regenerative medicine that harnesses our body's abilities to amplify natural growth factors to heal itself.

Blood as we know it is made up of various components: Red blood cells, white blood cells, plasma, platelets, water and proteins.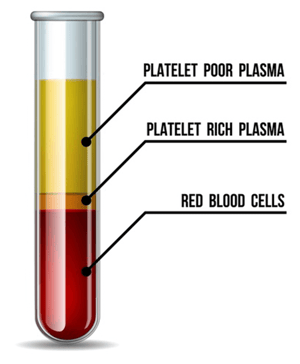 Platelet activation plays a key role in our body's natural healing process and is important for clotting blood. They provide essential growth factors which are involved in stem cell migration, differentiation and proliferation.
PRP has higher concentrations of platelets than what is typically found in blood. This can be
5 to 10 times higher
than usual. Concentrated platelets are injected into injured tendons, ligaments, muscles and joints to release growth factors that stimulate and increase the number of reparative cells your body produces.
Studies have shown the benefits of PRP to relieve pain in common conditions such as tennis elbow, rotator cuff tendinitis, Achilles tendon injuries, jumper's knee and arthritis. The use of PRP in orthopaedic injuries and conditions continues to be a major focus of research to improve the amount of scientific evidence on its uses.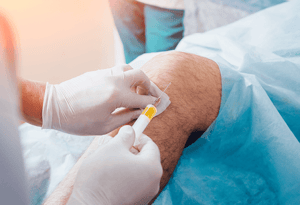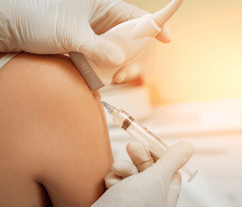 How is PRP extracted and administered?
Prior to the treatment, Dr Mizan will draw venous blood from your arm. The blood collected in a tube will be transferred into a centrifuge machine where the blood tube is spun to separate the various blood components. Only the plasma and platelet components are extracted and injected into the injured site.

During the treatment, Dr Mizan will ensure the injured area is cleaned well with antiseptic and a small amount of local anaesthetic is administered to numb the area. The PRP is then injected into the injured area. Patients are allowed to walk and move as per normal after the injection.
Patients will experience different outcomes from their respective PRP injections. This depends on the severity of the underlying condition and patient factors such as body weight, age and physical activities. Some patients will require repeat PRP injections for their condition.
Key advantages
Non-surgical
Safe and clinically-proven
Effective pain-relief technique
Minimal downtime
Alternative to anti-inflammatories
No risk of rejection as PRP is derived from own blood
Is this procedure Medisave-claimable?
This is a Medisave-claimable procedure that can be done in the comfort of a day operating theatre.
How long do PRP injections last? How many PRP injections are needed?
Repeat injections may be given after 6 to 9 months if patients achieved satisfactory results in previous treatments. Some patients will require repeat PRP injections for their condition.
Are there any side effects?
Patients may experience some aches and discomfort in the treated area for a day or two after the treatment. The pain is well controlled with prescribed pain medication and icing the area to soothe the discomfort.

The main risk factor for PRP injection is getting an infection in the treated area after the treatment. This is generally minimized when performed by an experienced orthopaedic surgeon. Dr Mizan will ensure that the skin over the affected area is thoroughly cleaned with antiseptic solution prior to the treatment.
What are the contraindications for PRP injections?
PRP injections are contraindicated in patients with superficial or deep infection of the affected area. During your consultation, Dr Mizan will take a thorough medical history from you and analyze the affected joint to determine your eligibility and advise the appropriate treatment for your condition.
Speak to our orthopaedic surgeon
if you are having pain and trouble with your tennis elbow, rotator cuff tendinitis, Achilles tendon injuries, jumper's knee and arthritis. We are here to help you on your journey.