Total Knee Replacement Surgery in Singapore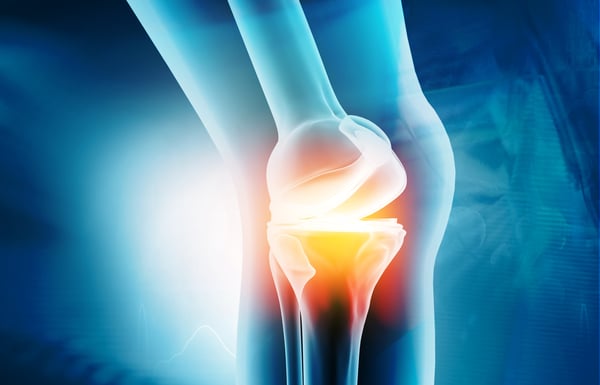 Arthritis of the knee can be a debilitating condition affecting our basic quality of life, daily function and personal happiness. It affects millions of people around the world and is a major cause of lost work time and serious disability. The knee is the largest joint in the body and is made up of the femur (thigh bone), the upper end of the tibia (shin bone) and patella (knee cap). The cartilage that covers the ends of our femur bone and tibia bone is like the meat of a coconut; white, thick and ultra-smooth. Arthritis occurs when the soft cartilage in our knee wears out due to various causes like degeneration, wear and tear, malalignment of the knee, trauma and infection. This previously intact cartilage starts to break down and offer less support and protection to our knees. There are also two wedged-shaped pieces of cartilage called meniscus in our knees that act as shock absorbers and keep our knees stable. Degeneration of our cartilage and tears in our meniscus often occur together and contribute to the symptoms we experience. We start to feel pain, stiffness and even deformities in our knee. Arthritis creeps up on us ever so slowly. It starts with an intermittent pain that may progress into something more severe and debilitating.
Can I prevent it?
This is a very common question I get asked a lot, especially in younger adults who have witnessed their parents or older relatives experience arthritis. There are some things we can and cannot do about the progression of knee arthritis. Genetics has a part to play in this, something we have inherited from our parents and not much we can do about it. It is important to be an appropriate weight for our height to prevent degeneration of our knees. An extra kilogram of weight can manifest as 3 to 5 kilograms of stress on our knees when we walk, run or climb stairs. It is important to maintain a healthy weight with a balanced diet, regular aerobic exercises and stretching.

Glucosamine and chondroitin used to be regularly prescribed for the prevention of knee arthritis. The latest guidelines from the American Association of Orthopaedic Surgeons (AAOS) do not support the use of glucosamine or chondroitin for the treatment of arthritis. There are patients who feel these supplements significantly improve their symptoms. They may continue with them as long as they do not interfere with other medications or diabetic control. Similarly, there is no strong evidence that intra-articular injections with visco-supplementation helps with arthritis. These injections continue to be used as there is no down time involved, no scars and they do give patients symptomatic relief, albeit temporary. Newer intra-articular injections with patients' own blood (autologous protein solution) are currently the topic of discussion and research for symptomatic arthritis. These new treatments are aimed at inflammatory cytokines and chemicals in the knee that promote the breakdown of cartilage. While they are safe and have been shown to improve pain scores in arthritis, further research is currently being done to determine the true effects of these blood injections for knee arthritis.

In the early stages of arthritis, much can be done to try and preserve the knee. Multiple surgeries have been done over the years to either replace focal loss of cartilage or help to regenerate it. These include transplanting cartilage from other parts of the knee into the defect (OATS: osteochondral autograft transfer system) or harvesting and growing a small piece of cartilage in a lab before re-implanting it into the knee (ACI: Autologous chondrocyte implantation. A common procedure we have done for years and still continue to perform is microfracture of the knee. While the cartilage has no blood supply of its own and therefore cannot regenerate, the bone beneath it does. During a keyhole (arthroscopic) procedure, a long and fairly sharp instrument is used to penetrate the surface of the femur bone. This induces some bleeding from the bone itself. The blood coming out contains cell that have the ability to develop into cartilage (fibrocartilage) over time. This new fibrocartilage is not as robust as your native cartilage (Hyaline cartilage) but at least there is some cartilage to reduce the pressure and pain from arthritis. Where the cartilage loss is very diffuse and widespread, these knee preservation techniques do not work.
Total Knee Replacement Surgery
A total knee replacement (TKR) describes a procedure to remove the worn out parts of the knee and replace them with implants. Healthy bones and ligaments are left behind to accommodate the metal femur and tibia implants as well as the plaster liner that sits in between the two metal pieces. Your surgeon may also replace your patella if there is significant wear and if your patella bone is large enough. A TKR is done to restore motion and function to the knee, enabling our patients to return to an active lifestyle.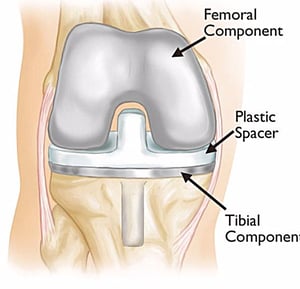 I have done TKR for more than two years now and am very familiar with the surgery itself. I have done TKR through conventional approaches, using both navigation techniques as well as robot-arm assisted techniques. Navigated and robot-arm assisted techniques are employed to promote better positioning of implants in your knee and facilitate better range of movement and flexibility after surgery. It is a fine balance between a stable and functional knee compared to a knee that is too tight or too unstable. Regardless of the technique, the TKR is able to correct both varus (bowing of your knees) or valgus (knock knees) deformities, improve on your knee extension (straightening) and flexion (bending), significantly improve your pain and function scores.
Robot arm assistant knee replacement (Makoplasty)
I have enjoyed performing knee replacement using the Makoplasty technique in the last few years. This technique involves significant pre-operative planning with the use of a CT scan and computer software. The CT scan provides a three-dimensional (3D) image of your knee which allows us to determine what size implants would be best suited for your knee. During surgery itself, I will then make further assessments of your knee with navigational techniques to ensure that the CT scans accurately reflect reality. As the knee is always in constant motion when we walk, I will stress your knee in one direction and another to see which parts of it are tight and which parts are not. This is important as it influences how we place the implants in your knee. Even before I make a single bone cut, I can trial different sized implants in different positions and make micro-adjustments along the way. The computer software advises on the most optimal implant position for you. The numbers on the screen reflect how well your knee moves and its stability with the virtual implants. Once I am satisfied with the numbers on the screen, I will proceed to make the first bone cut and position the implants in your knee. The robot arm has been programmed to only allow me to cut the bone as planned on the computer software. If I deviate from the plan, the robot will freeze and I will have to withdraw and start again with the planned bone cut. This improves the precision of the bone cuts and implant positioning, as well as prevent collateral injury to the adjacent soft tissues.

Makoplasty has removed the guess work out of a complex operation and patients are the ones who benefit from well-placed implants with great knee function after surgery.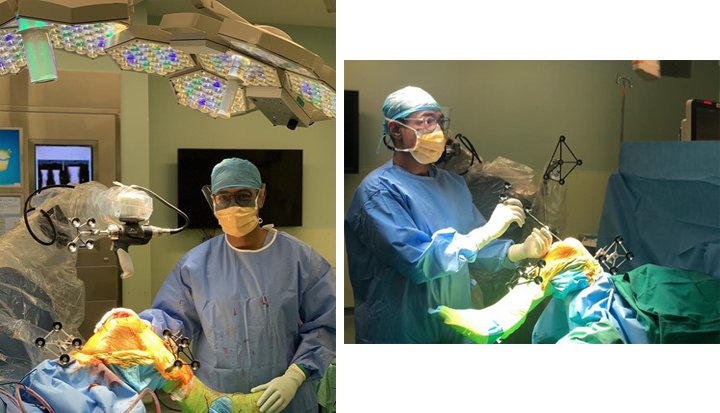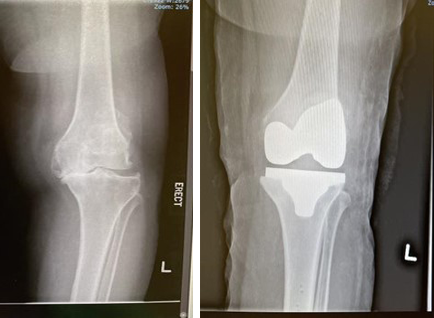 Comparison of a left knee before and after surgery. The bow-leggedness has been corrected with a total knee replacement using the robot-arm assisted technique.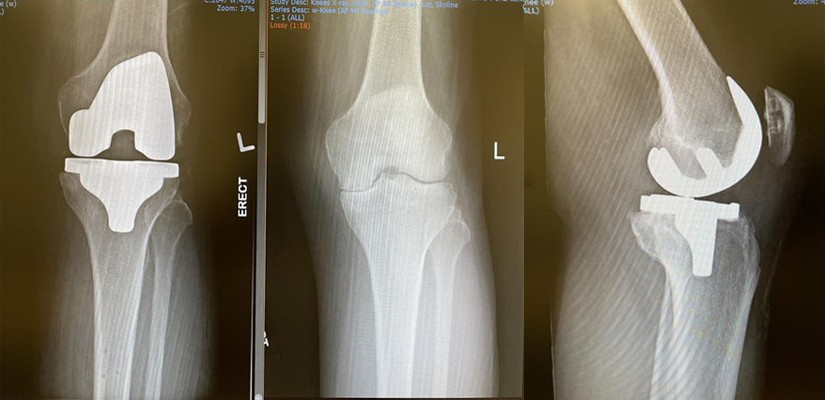 This is a patient with arthritis in his left knee secondary to gout. The TKR allows all the worn out cartilage to be removed and enabled him to return to work with less pain and better function. His patella was also replaced to complete the TKR.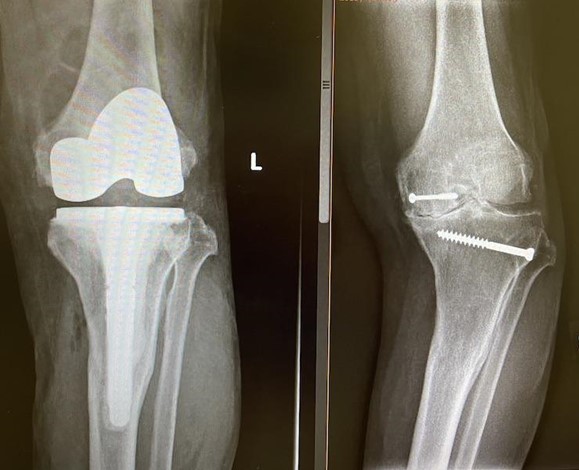 This patient had trauma to his left knee when he was a young adult. His left knee was severely bowed and he could barely walk 100m. He had to quit his job due to the severe pain from his post-traumatic arthritis. The total knee replacement not only corrected his bow-leggedness, it has significantly reduced his knee pain and he is now looking for new employment.
These surgeries take about 90 minutes or so to complete and you are allowed to walk on the same day itself if your pain is generally well controlled. We equip our patients with a hand-held computer which they can activate themselves when they are in pain. This patient-controlled analgesia (PCA) has been calibrated for patients. It allows patients to give themselves painkillers without having to wait for doctors or nurses. The PCA has been programmed to prevent cases of overdose in our patients.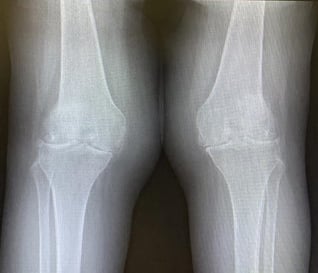 Both knees are painfully affecgted by rheumatoid arthtitis, an inflammatory condition that frequently affects all compartments in both knees.
A bilateral total knee replacement is done to facilitate a meaningful rehab program and return the patient to gainful employment
Healing and Rehabilitation
There will be a 10 to 15cm scar in the front of your knee after the surgery. This fairly long scar is needed to adequately expose the knee to remove all the worn out parts as well as place the new implants in an optimal position. While keyhole surgery may be used in knee preservation techniques, it cannot be used for a formal total knee replacement. Skin incisions which are too small may even compromise the surgery as the surgeon may not be able to have adequate visualisation of critical areas and implants may not be placed optimally. The surgical scar takes two weeks to heal. During this time, I do apply some dressings to prevent infection and facilitate good healing.

There are several techniques we employ to help reduce knee swelling. Immediately after surgery, your knee will be wrapped in wool and crepe dressing. This compression helps prevent bleeding into your knee after surgery. The day after surgery, this compression dressing is lightened and ice packs are applied to further reduce swelling. Finally, elevation of the foot with pillows under the ankle helps reduce the swelling. I do explain to my patient that swelling around the knee may last for a month or two in some patients. This is completely normal and will improve from day to day.

There are several techniques we employ to help reduce knee swelling. Immediately after surgery, your knee will be wrapped in wool and crepe dressing. This compression helps prevent bleeding into your knee after surgery. The day after surgery, this compression dressing is lightened and ice packs are applied to further reduce swelling. Finally, elevation of the foot with pillows under the ankle helps reduce the swelling. I do explain to my patient that swelling around the knee may last for a month or two in some patients. This is completely normal and will improve from day to day.

I encourage all my patients to do as much walking and aerobic exercises as they wish. This helps to develop their general muscle strength and flexibility. My patients report improved quality of life and physical function after their surgery. They also experience better knee extension and flexion. Squatting is something not everyone is able to achieve after a knee replacement. A lot of it depends on how much they were able to flex their knee before surgery; how large their thighs and calf muscles are and the strength in their legs to actually perform a squat and stand up after that.

Quite a few of my patients have returned for me to perform the same operation on their other leg. After they have recovered from their first knee replacement and enjoyed all its benefits, they then want the same surgery on the opposite leg with confidence. I occasionally do a bilateral knee replacement in patients who have severe symptoms in both knees and are very affected by them. In this group of patients, their rehabilitation will not be optimal if I only perform a TKR on one knee. I do ensure that they are of the appropriate age and have minimal medical conditions before taking on this task. Depending on individual patients, I start to walk the patients who have had a bilateral TKR perhaps 2 days after surgery rather than 1. This is to ensure their pain control is taken care of, they do not have any dizziness or vertigo and they have enough confidence to start their physiotherapy.

Do speak to your local orthopaedic surgeon if you are having pain or stiffness around your knees. I would be delighted to give you some advice for your symptoms.