What You Need To Know After Your Hip Replacement Surgery
Total Hip replacements describe a surgical procedure to remove the worn out parts of the hip to help patients experiencing hip pain, stiffness and loss of function. Patients who undergo hip replacements in Singapore are able to regain their mobility and independence with better hip function and less pain.

This article will help you better understand what to expect after hip replacement surgery.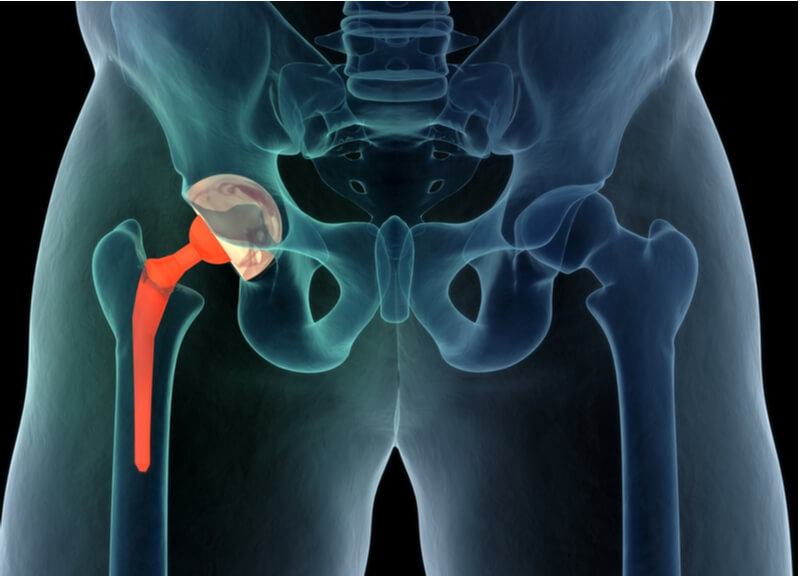 Who would benefit from a Hip Replacement performed?
Patients who are generally fit and well but suffer persistent and severe hip pain will benefit the most. We encourage our patients to return to their active lifestyle after surgery to maintain good muscle tone and build their self-confidence.
We recommend this surgery to patients for whom conservative management has failed to treat their hip pain.
How is a Hip Replacement performed?
All our patients undergo robust pre-operative assessments and investigations to ensure a safe and smooth surgical journey. Patients will be asked to lie flat on their back (supine position) for the direct anterior approach (DAA) total hip replacement. After administering the anaesthetic, an oblique or bikini skin incision is made over their groin.
In traditional hip replacement surgery, muscles, tendons and even ligaments are cut. With DAA, muscles in the front of the hip are pushed to the side to permit entry into the hip joint. The worn-out hip joint is then removed with specialized orthopaedic equipment.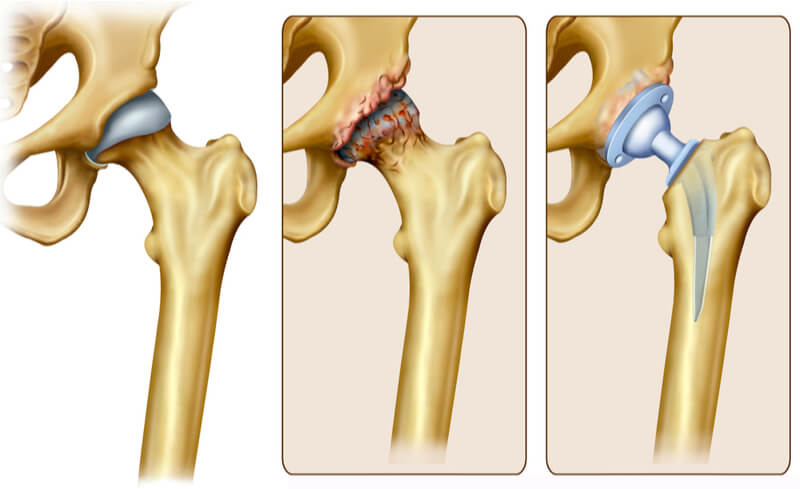 In the acetabulum (cup side), the worn-out cartilage is removed, and a titanium cup is put in its place. This is done under X-ray guidance to ensure that the position and size of the cup are appropriate. The femur stem is inserted into the femur bone and the hip is reduced into position.
Using an X-ray, these trial implants are checked again to ensure that they are of the appropriate size and are well-positioned. The surgeon then tests if the hip is stable by maneuvering the hip in various directions, often mimicking similar movements such as walking, sitting, sleeping, and even kneeling.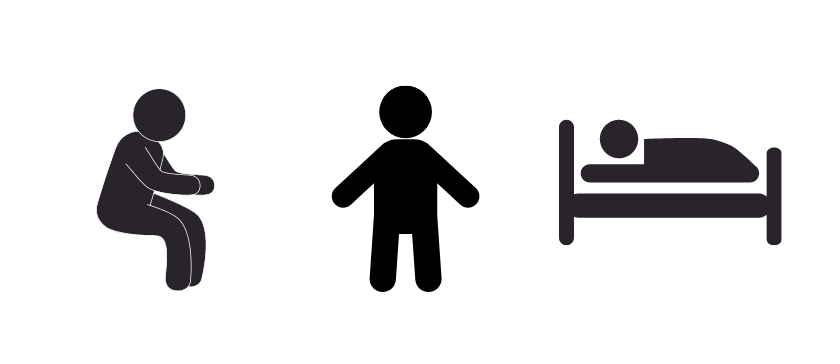 Once the hip stability is found to be satisfactory, the trial implants are replaced with the actual implants. The wound is then washed with antiseptic solution and the wound is closed with suture.
Medication
Most total hip replacement (THR) patients who undergo this procedure through the direct anterior approach (DAA) are admitted in hospital for one or two nights. They are given simple analgesia to help control their pain and allow them to do early physiotherapy. These include anti-inflammatory medication, paracetamol and muscle relaxants. Morphine-based medications are usually not required for the muscle-sparring DAA technique.
They are also given some antibiotics before and after their surgery to prevent any infection from setting in. Most of my patients do not require medication to prevent deep vein thrombosis (DVT) due to the DAA technique of doing the THR as well as early ambulation associated with this procedure. If patients are at risk of DVT, some medication (Clexane) may be given under the skin to prevent DVT from occurring.
If you were previously on certain long-term medication before surgery, this may be started after surgery if they were previously stopped. Anti-platelet medication such as Aspirin or Plavix may be restarted at their regular dose the day after surgery. Other medications for hypertension or diabetes may also be restarted after surgery.
Physiotherapy
Physiotherapy and rehabilitation begin on the day of the surgery itself. For patients who have surgery in the morning, they are allowed to have their lunch when they return to their hospital suites before starting to walk in the mid-afternoon. We start off our patients by marching on the spot and walking using a frame. Once they have completed this, they may then use a walking stick to walk themselves around their suites or along the corridor of the ward. A physiotherapist will be at hand to assist patients when they are walking. The following day, patients start walking up and down stairs before they are deemed safe to return home. Most patients leave the hospital using a walking stick and will require them for a week or two.
Wound management
The waterproof dressing over your groin wound may be changed before discharge if they are stained. The dressing may be changed between 5 to 7 days later and may be left exposed at the 2 week mark. The skin sutures do not need to be removed after your surgery as they self-dissolve.
After a Hip Replacement Procedure
Patients are prescribed with paracetamol after surgery as no muscles are cut. A brief rehabilitation session with a physiotherapist to regain the use of the muscles may also be arranged on the same day as the surgery. This also helps to maintain muscle strength and improve their personal confidence.
After a second physiotherapy session the morning after, patients often leave the hospital after just one night's stay.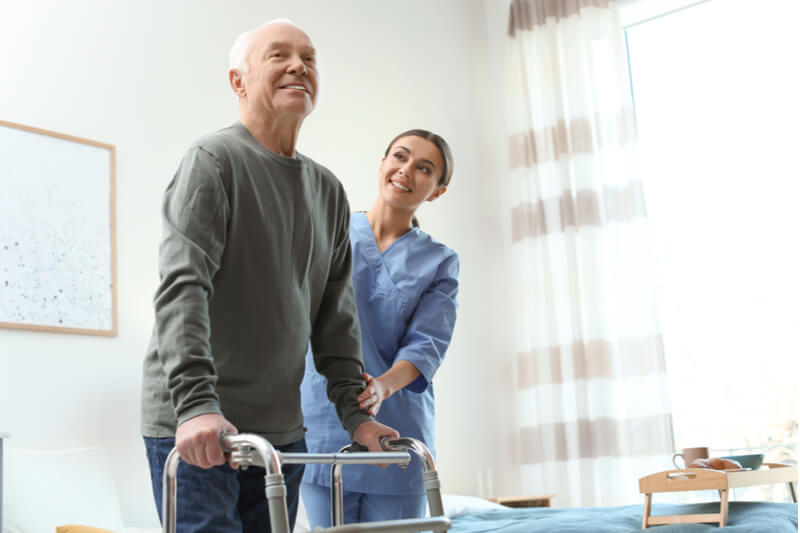 Hip Replacement - after discharge from Hospital
Moving around
Dr Mizan encourages his patients to walk and move around as much as possible after surgery. This allows muscles to maintain their strength and flexibility. It also prevents scarring around the wound. The walking stick is there to help with your balance during the first few days. Once you have gained enough confidence walking, the stick may be left at home. Patients are also allowed to sit on normal chairs or toilet bowls. As the swelling around the hip muscles reduce, they will be able to cross their legs, kneel and squat better.
Medication
You would have been discharged from hospital with some medication to take for pain. This medication is there to help you move around comfortably and facilitate your rehabilitation. The medication given may be taken as required during different times of the day.
Anti-inflammatory medication such as Arcoxia is given to reduce pain and swelling in your hip. These medications are not addictive and are usually only taken for a few weeks. Muscle relaxants such as Anarex may be taken several times a day to reduce the stress on your muscles. Antibiotics are usually not required after discharge from hospital.
Precautions after total hip replacement surgery
With the DAA technique of THR surgery, the posterior structures of your hip are kept intact and are not compromised. As such, patients are allowed to squat, kneel and cross their legs should they choose to. The risk of posterior hip dislocation with regular daily activities is negligible.
Patients are allowed to cross their legsafter surgery.
Patients are however advised not to allow their operated leg to be pulled forcefully such as during bungee jumps and aggressive forms of massage and manipulation. This may cause their hip to dislocate.

Leg traction is not allowed.

Preparing the home
Patients are advised to consider their home environment before they have surgery. While they are allowed to walk up and down stairs, they may choose to sleep in the bedroom on a lower level rather than on level 3 of their home. You should consider adding the following safety items to your home.
Place a comfortable chair in every room, including the kitchen and bathroom.
Install a rail or handle in the shower or along stairs to give you added safety.
Use slip-proof or gripping mats in the bathroom and around the house.
Diet
Foods high in proteins and vitamins like calcium are good for your post-surgery diet. Examples include fish, skinless poultry, eggs, fruits, and vegetables. Carbohydrates are also important to give you energy to move about and attend your physiotherapy sessions. There are no diet restrictions associated with hip replacement surgery. Patients are advised to comply with their usual diet restrictions associated with diabetes, gout and other medical conditions.
How much does a Hip Replacement cost in Singapore?
The price for hip replacements in Singapore ranges from $10,000 for subsidised patients in government hospitals to about $40,000 in Private hospitals. The orthopaedic clinic that you visit will give you a breakdown of the total cost. This includes the following:
Facilities and hospital fees (largest expense)
Surgeon fees (amount dictated by Ministry of Health or Insurance Companies)
Anaesthetic fees ((amount dictated by Ministry of Health or Insurance Companies)
Implant costs
Additional measures post-op i.e. medication, dressings, walking stick
There are various forms of medical insurance used in Singapore (Personal vs Corporate, Local vs Foreign, Elective vs Accident). Some insurance policies will require patients to co-pay a certain amount for their treatment. As such, pre-operative financial counselling is an important process that we adhere to to ensure that you receive your medical treatment with peace of mind and can focus on your recovery.
Speak to our orthopaedic surgeon Dr Mizan Marican today to assess your hip conditions and understand more about how we can help you achieve a better quality of life.