Robot-Assisted Mako Total Hip Replacement
Total Hip replacements have been performed by orthopaedic surgeons all over the world for decades. This procedure is done for a variety of reasons including hip arthritis, trauma and fractures, infections as well as developmental abnormalities. Some hip replacement procedures involve the use of cement while others done. Some surgeons use screws while others prefer not to. The term 'there are many ways to skin the cat' comes to mind.

However what all hip replacement surgeons like me strive to achieve is a stable, flexible and painless hip which patients can enjoy after surgery. It is also important to ensure that both legs are of equal length after surgery. Patients with hip problems may have legs of different lengths when they see us in clinic for the first time. It is therefore important to inform them about this. We will try to equalise their legs during surgery and this may make them have a sensation that their operated leg is slightly longer than it was originally. They soon get used to their legs which are equal in length after surgery.
Patient Story: Hip Pain and Total Hip Replacement
Ms S is a 50-year-old lady who loves the great outdoors. She is an avid golfer and enjoys traveling the world with her husband. She is also still busy with her business and loves to dress up and look elegant. Over the last few years, she had started experiencing right hip pain, clicking, and stiffness. This was limiting her physical activities and preventing her from playing her sports. She was also having less joy when she travels as she couldn't walk as far as before. An MRI scan of her hip had shown a tear with significant arthritis in her hip. She had tried medication, physiotherapy as well as surgery to repair the tear in her hip. All these techniques had failed and she came to see me for assistance after that.

I found Ms S to be a very cheerful person despite her hip pain. She was determined to get back on her feet and return to traveling and all her sports. I found her hip to be stiff and her affected leg was about 5mm shorter than the other leg. We made a joint decision to perform the direct anterior approach (DAA) Total Hip Replacement (THR) for her. She also wanted more assurances that the surgery and implants will last her for the rest of her life and not just 20 years. I clarified that more than 95% of hip implants are still in good working order even after 20 years due to good quality manufacturing and modern surgical techniques. We also agreed to perform this surgery with the MAKO Robot-assisted technologies to improve the precision of the surgery and ensure both legs are of equal length after her surgery.



Total hip implants come in various shapes, sizes and materials.

Front view of Ms S' pelvis before surgery. The right hip joint is narrowed compared to the left hip joint. The right leg is also shorter due to the arthritis.



Step 1: Planning for the Mako Robot-assisted total hip replacement.

A CT scan of Ms S' pelvis and hip was performed to get a 3-dimensional image which was uploaded onto a surgical planning software. It read that Ms S' right leg was 4mm shorter than her left leg. The program allowed me to plan her surgery by superimposing different sizes of implants onto the image before deciding the final implant size and position that would be suit Ms S.



A pre-operative plan without implants showing a shorter right leg.

Pre-operative plan with superimposed implants showing both legs are now the same length with the appropriately sized implants.
Step 2: Surgery
During surgery, I prepare the patient and position the Mako robot beside the operating bed. The surgical incision over the right hip was made and hip muscles were pushed away to allow access into the hip joint itself. The robot arm is then brought into the hip joint to help with reaming and cleaning out the acetabulum as well as ensure that the metallic cup is inserted in the precise direction and orientation. The rest of the worn-out hip is removed then replaced by implants. The hip is moved around to ensure its flexibility and stability. This is to mimic patients daily activities such as squatting, walking up stairs and hugging their bolster when they sleep. If the hip is unstable, different components of the hip implant can be changed to a different size till the hip achieves its stability.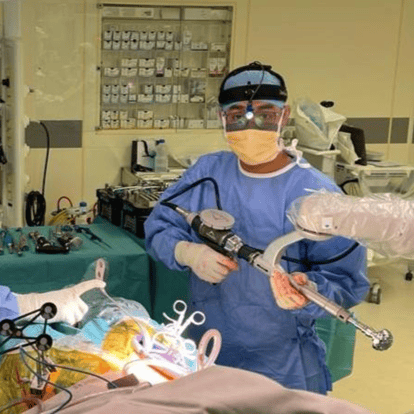 I introduce the reamer at the end of the robotic arm to clean and ream out the acetabulum. The robotic arm is also used to insert the metallic cup into the acetabulum in the planned position and direction.
X-rays are also done during surgery to ensure all implants are well placed and that there are no fractures to worry about.
Step 3: Recovery after surgery
Ms S made a good recovery after surgery. She started walking about 3 hours after her operation was completed. The physiotherapist walked her around her hospital suite as well as along the ward corridor. The following day she managed to walk up and down some stairs. She was also on regular painkillers to allow her to be fairly comfortable when walking and sleeping at night.
Post-op x-ray of Ms S' hip showing the new implant as well as the right leg which is now the same length as her left.

She was discharged 2 days after her surgery and was followed up in my clinic a week later to change her dressings. She has since returned to her active lifestyle including golf and trekking without any limp! Her friends and family members have noticed the difference in her walking gait and her general outlook on life. Without the bothersome hip pain, her smiles were more frequently seen than frowns! We wish Ms S the very best with her new hip and hope that her scores improve during golf!