Severe Knee Infection: To Amputate Or Preserve The Leg?
There are some patients that I will never forget despite the thousands I treat each year. It is either because of the severity of their orthopaedic conditions or how they turned out after their treatment. Every difficult case is a major learning experience for me, lessons learnt and cherished for my future patients. Sometimes you are all they have.

They have endured a difficult journey and have ended up in your clinic for help. We have been blessed with certain clinical and orthopaedic skills to help our patients. This is what surgeons do.
About Mr BB*
Mr BB was in his mid-fifties and had a history of diabetes. He had been admitted to another hospital for severe infection in both legs, where he underwent multiple operations. In addition to this, he also required an extended duration of antibiotics to manage the infection.
Despite the treatment, he continued to experience severe swelling in his left thigh and knee, accompanied by fever and pain.
He came to see me for a second opinion. Upon meeting Mr BB, I was concerned about the state of his leg because it was severely swollen, and the infection was noticeable in both his left thigh and knee.
Assessment and procedure
After assessing him, I explained to Mr BB that further investigation was required. The blood tests showed a severe infection and X-rays of his knee showed that the infection had eroded the cartilage in his knee. An MRI of his left thigh and left knee also confirmed my clinical suspicions of an ongoing thigh infection and septic arthritis of his left knee.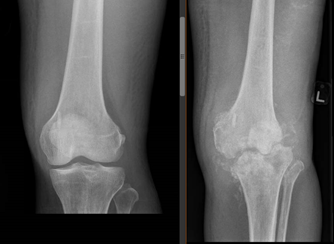 Left: A normal X-ray of his knee. Right: an X-ray 6 months later showing a severely arthritic knee.
With Mr BB's wife and adult children in attendance, I explained the grave condition of his left leg and that he was at risk of an amputation above his left knee.
I explained that any options to try and reconstruct his knee would be risky. He understood that this severe infection could recur and still lead to an amputation in future.
Mr BB underwent surgery to remove the chronic infection in his left thigh and knee. The eroded cartilage and infected bone were carefully and thoroughly removed, leaving behind a 5cm gap. Antibiotic-impregnated cement was used to fill this gap to maintain the length of the leg and to allow the antibiotics to kill the remaining bacteria in the knee.
The knee was also stabilized with an external fixator, a metal construct of rods and pins that stick out from the knee. We also sent the infected tissue and bone to the microbiology lab to be analyzed, as this allows us to better understand the type of bacteria that caused the infection.
With this data, we were then able to prescribe the right medications to Mr BB to manage the infection post-operatively.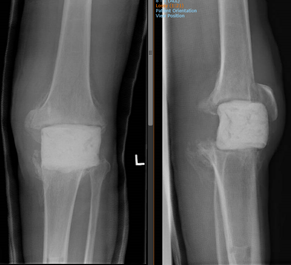 A front and lateral X-ray of the knee with a cement spacer in situ.
Mr BB was on antibiotics for several months after his surgery. The antibiotics were given via the Outpatient Parenteral Antimicrobial Therapy (OPAT) system. This allows patient to receive intravenous antibiotics over a prolonged period in the comfort of their own home.
While Mr BB was on antibiotics, I frequently reviewed him in hospital together with the infectious disease doctor to monitor his healing progress. With no more fevers and his blood test significantly improving, we stopped his course of antibiotics upon completion and repeated the blood tests. This showed low infection markers that were consistent, and there were also no signs of recurrent infection in his leg.
The next steps
We met with Mr BB's family to discuss our next steps as there was still a cement spacer in his knee which had to be removed. There was a choice between an above-knee amputation which would lead to crutches and walking support for Mr BB throughout his life, or a knee replacement with a possible risk of infection in the future. An infection in future may also lead to an above-knee amputation.
In difficult cases such as this, I always conduct family conferences where I would discuss the clinical problem, the pros and cons of the available options, as well as what to expect. This paints a better picture and understanding for all involved and helps them come to a final decision.
Patient-centered consults and decision making are key to ensure our patients receive the best care possible.
Mr BB and his family, in close discussion, decided on the mega-prosthetic knee replacement. They decided that if faced with an infection in future, they would be satisfied that they had tried their best to save his leg.
We proceeded to take measurements on his X-rays for his new implants, a large mega-prosthesis.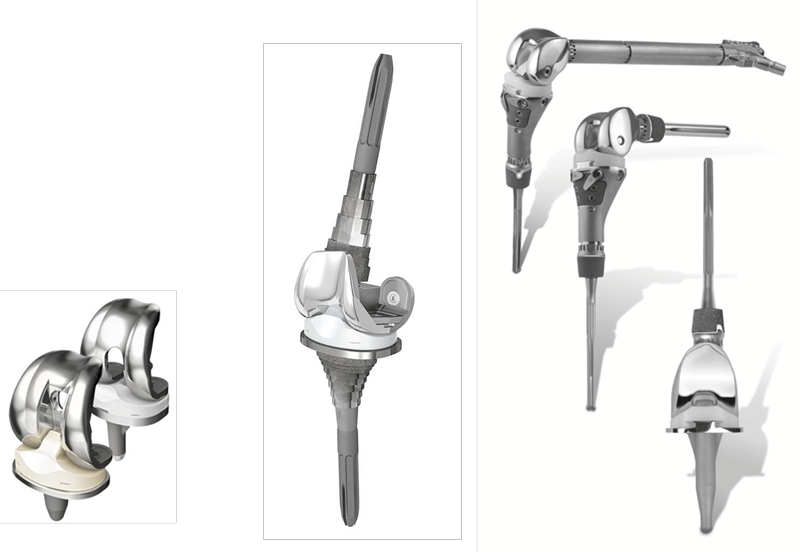 Left: Simple knee replacement implants consist of two metal parts and a plastic liner in between. Middle: Revision implants have metal stems above and below to get a better catch of the femur and tibia bones. This enable the knee to be more stable. Right: Mega or large implants require removal of a significant part of the damaged bone. The large implants are modular and can be modified or enlarged depending on the bone loss in the knee.
The difference between revision implants and mega or large implants is in the structure. Revision implants have metal stems above and underneath it for a better grasp on the femur and tibia bones. This further stabilizes the knee. Mega or large implants require a removal of a significant part of the damaged bone, which are then replaced with large implants that are modular and can be modified, or enlarged depending on the bone loss in the knee.
During the reconstructive surgery, Mr BB's knee showed no sign of pus or infected fluid, and the cement spacer and metal external fixator was removed. Further cuts were made to his femur bone for the trial implant insertion, so that we can ensure that he was able to fully straighten and flex his knee.
After we were satisfied with the implant size, we replaced these trial implants with the actual mega-prosthesis implants.
Post-procedure
Mr BB continued to receive antibiotics after surgery as a precaution to prevent any infection. He also underwent a formal rehabilitation program to strengthen and stretch his knee – something he was unable to do for the past 6 months.
The infectious diseases consultant and I continued to review Mr BB in the early stages of his recovery to monitor the progress of the wound healing. His physiotherapy was also aimed at strengthening his quadriceps muscle so that he can straighten his leg as he walked.
It has been more than a year now and Mr BB walks around with a walking stick at home and a wheelchair for long distances or hours. With the mega-prosthesis surgery, Mr BB felt extremely grateful for having gone through it and allowed him to have a close-to-normal life without the pain or swelling.
*Names have been changed to protect the identity of individuals.