Patient's Guide To MAKOplasty® Robotic Knee Replacement
Knee replacement surgery is an ideal surgical solution for knee pain resulting in severe pain, deformity and loss of function in our patients. A technological advancement in this field is the use of a robotic technology known as the MAKOplasty® Robotic Knee Replacement. This technique helps orthopaedic surgeons execute joint replacement surgery with greater precision and accuracy. This includes partial knee replacements, total knee replacements and hip replacements.
Advantages of robot knee replacement surgery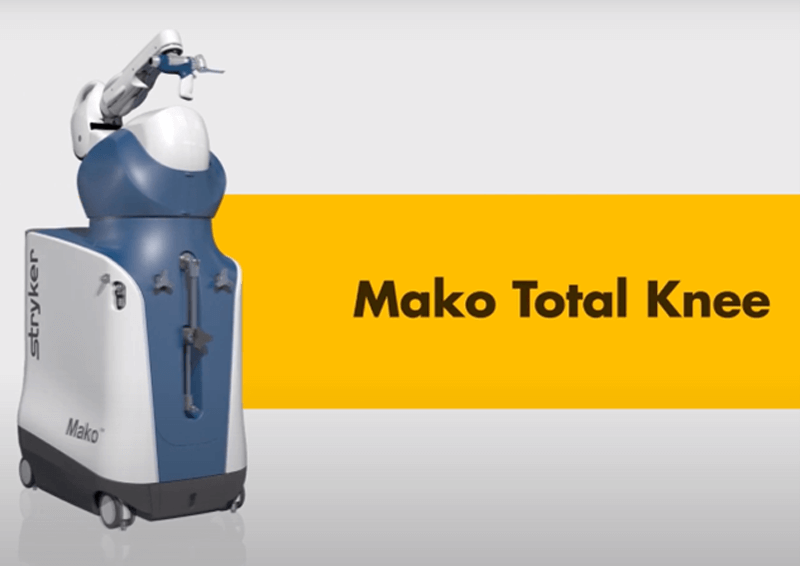 Though introduced only recently, robotic-assisted surgery is gaining demand in surgery amongst both orthopaedic surgeons and patients due to its ease of execution and success rates. In addition, it also helps to leave out the guesswork of these complex procedures.
Pre-operative planning is done with the use of CT scans and further finetuning of these plans are done during surgery itself. It allows appropriate-sized implants to be placed in optimum positions to ensure the knee is stable and flexible throughout the arc of motion. This will enable patients to have a satisfactory outcome from their surgery and return to their active lifestyles.
What is MAKOplasty® Robotic Knee Replacement?
MAKOplasty® is an FDA-approved technique in the well-established knee or hip replacement surgery. Orthopaedic surgeons are equipped with added computerized vision and the accuracy of robotic hands to achieve better outcomes.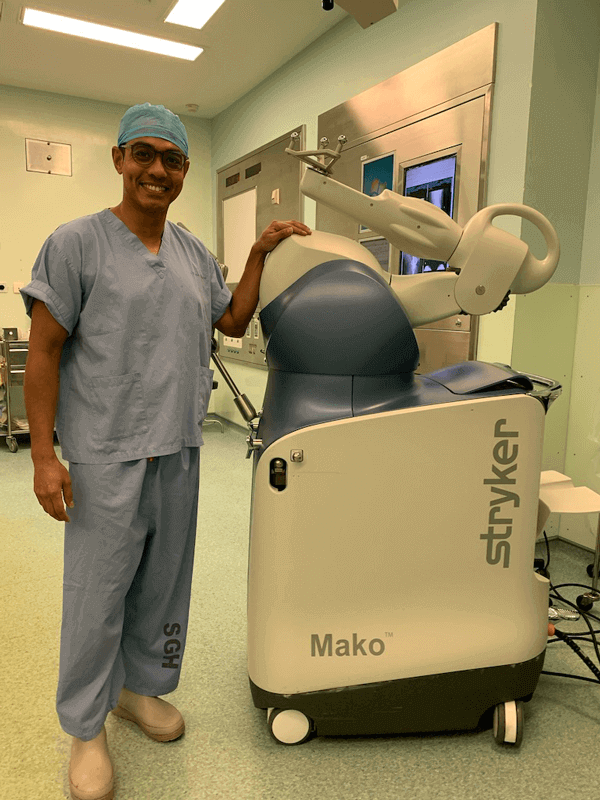 A knee replacement surgery procedure involves removing worn-out cartilage, torn menisci and bone surfaces of an affected knee and replacing them with prosthetic knee implant. The surgery aims to restore excellent range of motion and function.
Overview of the procedure
A CT scan of the affected knee is done before surgery to create a 3D virtual model which evaluates your unique bone structure and joint alignment. The MAKOplasty® software interprets these 3D models and creates a customised surgical plan. This includes determining the size of the various implant components and where they should be placed within the knee. It guides the surgeon to appropriate areas to make the bone cuts to fit the implants.
During surgery, your surgeon will make a surgical skin incision over the front of the knee and prepare it for the robotic arm. He will move and stress your knee in various positions to determine which parts are tight and which parts are loose. This information is fed to the MAKOplasty® software to further finetune the surgical plan.
With this new information, the size and position of the implants may be tweaked to ensure the knee is stable and flexible in all directions. Once this new plan is confirm, the surgeon will proceed to make the initial bone cuts for the implants to fit perfectly.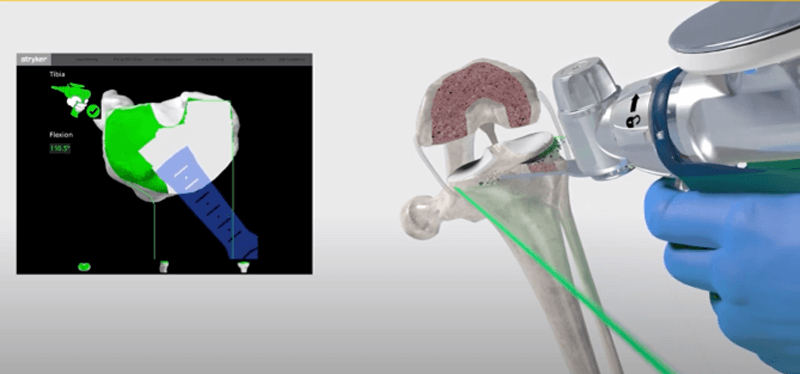 A virtual boundary provides tactile resistance to prevent the surgeon from deviating from the surgical plan and causing soft tissue injuries. With the surgeon's steady arm to guide the robot, the bone cuts are executed with precision and safely. The implants are then cemented to the bone surfaces and the knee is manipulated from full extension to full flexion to confirm its stability and flexibility. The surgery is usually completed in an hour and a half.
Patients are usually hospitalised for several days where we manage any post-operative knee swelling or pain, and facilitate physiotherapy as part of their rehabilitation.
Myths about knee surgery

Myth 1: MAKOplasty® robotic surgery is performed by robots.
In reality, the surgery is performed by orthopaedic surgeons with the help of robotic technology to improve the placement of implants and facilitate better range of movement of the knee.
Myth 2: All knee problems need surgery.
Not all orthopaedic problems require surgical solutions. A majority of knee issues can be treated conservatively with medication, physiotherapy and/or pain-relieving injections into the knee.
Myth 3: Knee surgery is painful.
Orthopaedic surgeons employ several ways to reduce post-operative pain in their patients. This includes pre-surgery medication, pain-relieving injections during surgery as well as nerve blocks given post-surgery by the anaesthetic specialist.
Myth 4: Knee injuries or pain are seen only in athletes or heavy workers.
Knee pain affects patients of all ages, regardless of their work or sport they enjoy. It is a feature of the normal aging process, genetics, body mass as well as daily physical activities. Some will experience mild pain, while others may suffer from moderate or severe symptoms.
How does a robotic knee replacement differ from a traditional knee replacement?
Robot-assisted knee replacements have been shown to allow accurate bone cuts and implant placements than conventional knee replacement surgery. This allows patients a more predictable and superior outcome.
| | | |
| --- | --- | --- |
| | MAKOplasty® | Traditional Surgery |
| Pre-planned surgical procedure | Yes, with the help of a CT scan and MAKOplasty® software | Planning is done using standard X-rays of the knee |
| Incision | The main skin incision is the same as a standard knee replacement, but two other skin incisions are made to attach probes for the robot to detect movement of the knee | A standard midline incision of about 15cm |
| Collateral ligaments of knee | Preserved | Preserved |
| Adjacent healthy bones and soft tissues. | Preserved | Preserved |
| Nerves and blood vessels | Greater safety profile due to the tactile feedback that stops the bone saw from deviating from the surgical plan | Preserved |
| Blood loss and embolism risk | Less blood loss as instruments are not inserted into the medullary canal of the femur bone | Higher blood loss as instruments are placed within the medullary canal |
| Personalised Implants | No, the MAKOplasty® software is paired with implants from a company called 'Stryker' | Surgeons may decide what implants they use from the various implant companies |
| Accuracy | Higher accuracy of bone cuts based on patients' bone and soft tissue (ligament) profiles | Accuracy of bone cuts and implant placements are based on surgeon's operative skills |
| Post-operative pain and swelling | Minimised with various techniques such as intra articular injections, nerve blocks and cold therapy wraps after surgery | Minimised with various techniques such as intra articular injections, nerve blocks and cold therapy wraps after surgery |
| Recovery time | 2-4 months to allow swelling, range of motion and function to reach its full potential | 2-4 months to allow swelling, range of motion and function to reach its full potential |
| Risk of early implant failure | Low risk due to well-placed implants and well-balanced knee | Risk of early failure if implant placement is poor |
Benefits and costs of MAKOplasty®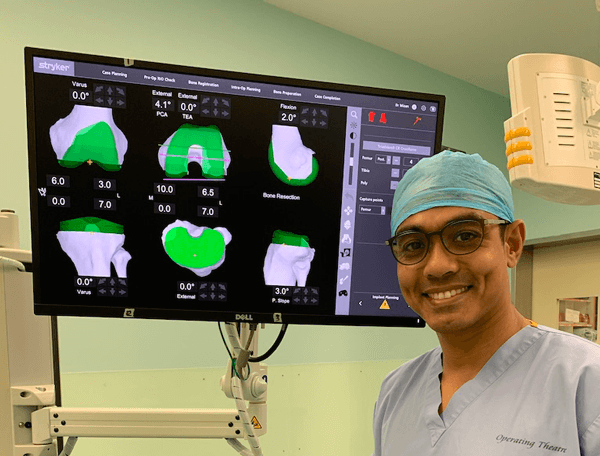 MAKO robotic arm-assisted knee replacement surgery utilizes technology to enhance the traditional surgical technique and present patients with the following benefits.
Higher accuracy in implant placement
A well-aligned and stable knee joint
Satisfactory range of movement restored
The cost of robotic knee replacement surgery in Singapore is generally higher than that of traditional techniques. This is due to the cost of the robot, consumables used during surgery, as well as CT scans.
What to expect after your MAKOplasty® total knee replacement surgery?
When patients are brought to their ward after the surgery, we ensure that their post-operative pain and other symptoms are well managed. An X-ray is performed to ensure that the knee implants are well positioned.
Patients are also allowed to eat and drink after the surgery. The surgical and nursing team will help to apply cold therapy to the knee to reduce swelling, and on the next day, our physiotherapists will help you on your feet to assist with your walking. You may first have to use a walking frame and progress to a walking stick once you are more stable on your feet.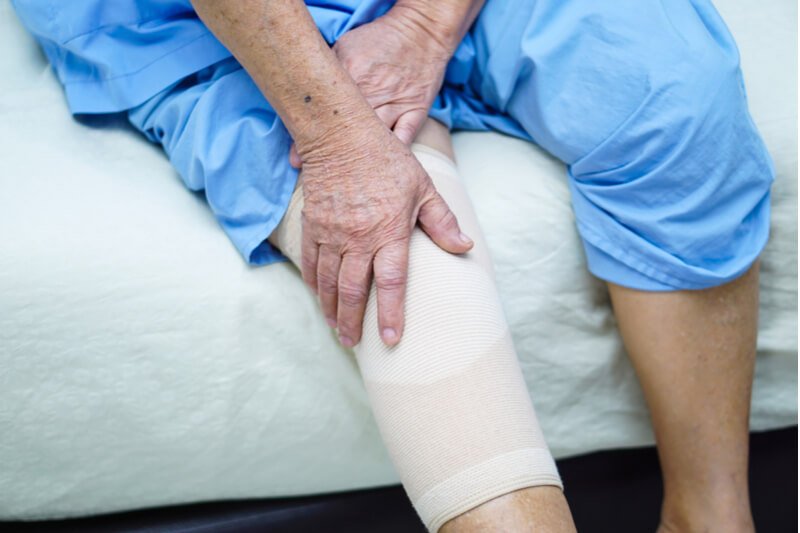 Who are the best candidates for MAKOplasty®?
The presence of any of the following conditions may indicate the need for knee replacement surgery.
Advanced osteoarthritis

presenting with:

Constant and severe pain while performing day-to-day activities.
Knee stiffness affecting normal walking.
Failure of conservative management strategies like physiotherapy, anti-inflammatories, cold compress.

Severe knee pain or stiffness

resulting from degenerative or inflammatory arthritis affecting basic quality of life.

Deformities of the lower limb

such as varus (bowing of the knees) or valgus (knock knees) malalignments.
Contraindications to knee replacement surgery include active infection, poor cardiac or general health, severe vascular disease, muscular weakness and inability to extend your knee (extensor mechanism dysfunction).
Choosing MAKOplasty® for Robotic Knee Replacement
Robotic-assisted knee replacement benefit both patients and orthopaedic surgeons, and involves enhanced patient-specific pre-operative planning, dynamic joint balancing, and robot-assisted bone preparation for accurate implant placement.
Speak to our orthopaedic surgeon if you are having pain or trouble with your knees. We are here to help you on your journey.